"Top Dog" Reviews
Dog Toys for "Ruff" Dogs
Is your dog a "shaker"? A "shredder"? A very "aggressive chewer"? Have you bought your pooch a doggy toy at your local mart, only to find it in shreds by day's end?
There is a solution. You need to find a tough toy your dog will learn to love and respect, like the one shown on the right. Think about how much fun your dog or puppy will have with that one! Plush, durable, great for throwing, tug, and – although it might drive you nuts 🙂 – a squeaker is included. Available on Amazon, and highly rated (4 1/2 stars from 301 customer reviews), it is very reasonably priced at $13.95.
Two other 'models' are available – a "teddy bear" with a rope , suitable for smaller dogs; and a "floppy duck" thought would be ideal for a hunting or fielding dog.
I recommend you check these dog toys out at http://www.amazon.com/Dog-Small-Medium-Large-Dogs/dp/B00RC3PKU8/. I think your dog will love them!
How to Find Your Next Dog Groomer
I wonder what Angie would think?
Barkocity.com, a one-stop, full service pet concierge service… is here. Offering pet services like Dog Walking, Pet Sitting, Grooming, Veterinary Visits, and much more. The simple idea – to match pet service providers and customers online (or via mobile) easily. The easy to navigate Barkocity portal supports on demand appointment setting and booking, 24/7 availability, and a national network of providers. If you're not quite sure what you need or who to choose, just let Barkocity's SmartMatch technology do the work for you!
Learn more about this great new service at http://www.barkocity.com/.
How to Sign Up for Petgreet.com
"Hi! My name is Roxie. I am a 5 year old dachshund who likes to take long walks by the beach." This is the kind of post you might see on PetGreet.com, a new social networking site for pet owners and their pets. Similar in design and feel to Facebook, the website allows pet owners to "brag" about their favorite pets by posting text, pictures and videos; add pages and groups; and interact with other pet owners online. The best part – pet owners can enjoy Facebook-like interaction without all of the "clutter" associated with Facebook. I think it's a great idea who's time has come, and I recommend that all the fans of this website join as soon as possible. It's easy, and Free! So, see you on PetGreet.com!
Keep Your Dog Safe with An LED Safety Collar
Here's a pretty cool product. Not only will your dog look great this holiday season, but she will be safe and noticeable during the long winter nights. This is a premium LED collar with safety lights that glow in your choice of green or red, with heavy duty tag rings, high quality webbing with triple sewn edges, and easy snap buckles. Quality CR2032 batteries are included, and replacements are easy to find at your local drug store or online. The collars come in 4 standard sizes, but are easy to adjust for those "in between" sizes.
The collars are currently on sale (save $25!), are shipped free, and can be gift wrapped, Check out this special deal at http://www.shoptoughgear.com/led-safety-paw-collars/.
Pets Plus USA
If you're anything like me (and I'm sure you are since you love dogs 😉 ), I'm sure you've spent a lot of time surfing the internet for dog products and supplies. And, like me, I bet you get discouraged when you can't find the right price, or selection, or style, or whatever. It's really frustrating when one merchant has that one perfect item and price you want, but you have to go to a completely different site to find another item you need as well.
What you really need is a place where all of the best dog supply sites are bundled together into an easy to navigate "one stop" shop. Well, that would be Pets Plus USA. You see, they literally have it all. As an aggregator of information and prices from such well known merchants as PetSmart.com, Chewy.com, PetCo.com, and others; Pets Plus makes it easy to find the products you want at prices that fits your budget. Check them out today.
Hashly Dogs – A New Hashtag App for iPhone
You love taking pictures of your pooch, right? And, of course, any picture like that has to be tagged with something great for your social networks, doesn't it? But…. at that point you get stuck. What should you tag? What font or size or style should you use. Awe, forget it – those tagging apps are too complicated and awkward. Oh well, maybe next time.
Well, Hashly Dogs has come to your rescue. It's as simple as taking that pic in the first place. Snap the picture, add one of the 25 pre-defined doggy-style tags, and you're good to go. Share it on Facebook, Twitter, Instagram – fast and easy, no hassles.
Hashly is available the the iTunes store. Here's the link: https://itunes.apple.com/us/app/hashly-dogs-free/id906897051?ls=1&mt=8
Shoot it. Tag it. Share it… with Hashly.
Dog Jewelry from JewelryKind.com
Looking for the perfect gift for that dog lover – especially someone who owns an adorable Scottish Terrier? JewelryKind.com has the answer for you – a wonderful silver "scotty" dog pendant, highlighted with cubic zirconium and coated with rhodium for longevity. A beautiful piece for that special dog lover, and a great value at $48. Click here to go to the product page on JewejryKind.com.
Or, maybe you need something a little more whimsical – yet elegant? Their silver dog pendant would be perfect. Also highlighted with cubic zirconium, this pendant is the  outline of a dog, and it really 'pops' when worn over a dark, formal fabric. It's perfect for both casual wear or a special occasion, and a steal at $25. Check it out here.

Ricky's Anti-Inflammatory Capsules.
If you are worried about your dog's joint health, you owe it to yourself to read the following story…
Ricky, a Border Collie/Sheepdog mix, was a decorated war hero during World War II. In his memory and to honor his owner Sheila Litchfield and her love for animals, a line a line of healthy dog products based on the Buchu herb was developed. Scientifically proven to have anti-inflammatory properties, the Buchu herb also supplies antioxidants as well as vitamins A, B and E, making it the perfect supplement to enhance the well-being of your pet.
Buchu oil, recommended by leading veterinarians, is extracted from African Green Tea plants and has been used successfully by humans for centuries as an arthritis treatment and for pain relief. The capsules, formulated by the  Ricky Litchfield company (www.rickylitchfield.com) bring that wisdom and effectiveness into the 21st century. You can visit the website to read many testimonials from very satisfied customers.
I suggest you try Ricky's Anti-Inflammatory Capsules for older, arthritic dogs, or dogs suffering from hip dysplasia. The capsules are intended to provide both pain relief and promote joint mobility, and are especially helpful for recovery after surgery. And, if you have a younger dog, the capsules help promote healthy hips and joints in growing dogs.
You can purchase the capsules at the following Amazon link: http://www.amazon.com/Ricky-Anti-Inflammatory-Capsules-Supplement-Veterinarians/dp/B00KRMZ6A0.

Ultra Modern Pet ID Tags for Your Dog
According to the American Humane Society, a mere 15% of shelter dogs find their way home again. The lucky ones had custom dog tags that someone could read or decipher. The unlucky ones – well, apparently not so much. Even dogs that spend most of their time indoors can escape through an open door or window and get lost. Which is why it is of utmost importance that all dog owners need to find a better way to identify their dog.
This is where PetQ.me comes in. They specialize in personalized dog ID tags encoded with a QR code. Instead of a cheap tag with a minimal amount of information contained on 2-3 lines, a QR code dog tag can contain loads of up-to-date contact and other information about your pet. It can even tell you, via a GPS locator, that the tag has been scanned by someone with a smartphone! How cool is that? So, to protect your dog, is a pet QR tag in your future? I'm willing to bet it is.
Not Just for Gearheads and Fishermen
Today I was introduced to a new site – wrenchware.com. Here's my take…
So, you're stuck. You really need to find that perfect gift for that hard-to-buy-for-person-that-has-everything, But, you have no idea where to turn. Don't worry. Be Happy! WrenchWare's got you covered. You have never seen anything like their products. Ever!
They are unusual, different, useable, soon to be collectibles.. and just plain coool. Here's what you'll hear your friends or family say to you, "Where in the world did you ever find that? You're such a clever shopper."
No kidding. WrenchWare is not just for Gearheads and Fishermen. Their stuff is great for family picnics, cook-outs, barbecues, tailgating, whatever… You can buy products individually, or you can save some cash by buying them in sets. And, there's FREE FREIGHT on orders $25 and over (shipped in the U.S.) wrenchware.com
Find The Perfect Invisible Dog Fence

We have three dogs and live in a "large-lot" subdivision. The dogs run free on our property, but we  can't let them just run free in the neighborhood or on the streets. So, several years ago we installed – by hand – an invisible fence system. At the time we took on this project, I sure wish http://www.undergrounddogfence.org/ had been around!
Boy talk about handy. The website compares all of the best underground fence systems, has a ton of buyer and user guides, includes numerous detailed reviews and ratings, and provides all the tips you need to install your own invisible fence system. This certainly is a great resource site for the do-it-your dog owner!
Unique Pet Memorials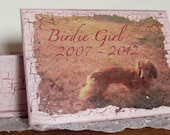 Today we'll look at some very unique pet memorials. Actually, these are really more than just memorial products, they are keepsake portraits that will be a celebration of life with your beloved pet.
You can choose a memorial plaque, a keepsake box, or unique pet urns. Ink from photos is actually transferred onto the wood or painted surface, and the texture of the surface reveals a truly original, antique look. This is a personal service to create a comforting place to keep memories of your pet,  and a celebration of your lives together.
Visit Nature and Nauticals for unique pet urns, custom keepsake boxes and wall plaques made with YOUR photo.
A Healthy Pet is a Happy Pet
The next time you want to shop for healthy foods and treat for your dog, you should probably visit Harlo's Healthy Pets. Founded in 2009, the stated mission of Harlo's is to educate pet owners about the role proper nutrition plays in a pet's health and to provide access to the highest quality healthy pet products available. And, from what I've seen on my visit to their website, they have attained those goals.
The website is very easy to navigate, and the number of brands available to explore is mind-boggling – including many I've never seen before. Bestsellers and special deals are easy to find in the sidebar and homepage, and if you are interested in a more social relationship with the Harlo's Healthy Pets; Facebook, Twitter, Youtube, and even Blogger icons are proudly displayed at the top.
Dog Training Collar
Is your dog "out of control" at times? Does he act like an angel most of the time, but then suddenly decides to jump up on house guests, go on digging sprees, or chase the neighbor's cat all around the neighborhood? For those occasional breakdowns in obedience, you may want to try a professional dog training collar with remote like the one shown here.
The Esky EP-300R-B1 is a rechargeable, waterproof dog training collar with a cell phone-like transmitter, four adjustable settings (vibration, static shock, light, and beep), and a range of up to 300 meters. Just the thing to help you to control your 15+ lb dog without a leash. A simple push of a button, and this dog training collar will help you straighten out that misbehavior in no time at all. Here's another picture of what you get:
Four Paws Down Dog Training
Do you like dog tricks? Most people enjoy seeing dogs playfully doing tricks other than the standard sit, stay, etc. If you're one of those people, and you want to see Fido having fun doing the extraordinary, then you should enjoy http://fourpawsdowndogtraining.com.
The site is packed full of great tricks you and your dog can have fun learning – like spinning, walking backward, sit pretty and beg, and many others. How fun it that? And, if your interest is more along the lines of standard obedience, Four Paws Down covers that as well. So, if training your dog is on your to-do list, be sure to check them out.