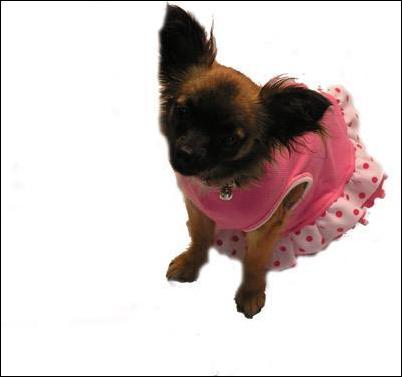 Columbus, OH (PRWEB) June 19, 2007
Leading online and mall based pet gifts and accessories store, moochie & Co., is helping dogs get dressed for success as part of this year's take Your Dog to Work Day.
"This is a great way to show your dog off to the boss," said Kristie Lewis, Moochie & Co.'s Merchandise Coordinator. "We want to celebrate Take Your Dog to Work Day by giving dog owners the opportunity to pamper their pooches in stylish office and work clothes."
Moochie & Co.'s online pet gifts and accessories store features dog suits and dresses for the annual event. Male dogs can sport a tuxedo with top hat and bow tie or a patriotic Uncle Sam costume. Female dogs can attend power business lunches in a polka dot denim dress or go with the more casual denim mini skirt. To accessorize, Moochie & Co. has a variety of necklaces, tiaras, and fur clips.
Pet Sitters International, sponsor of Take Your Dog to Work Day, estimates that 10,000 companies and businesses open their doors to their employees and their four legged friends every year. "We encourage everyone to take their dogs to work in style this year," said Lewis.
"Take Your Dog to Work Day is the perfect time to introduce your little girl or boy to your co-workers. Dogs will fit right in with their fashionable and professional pet suit or dress,' she added.
New pet owners and animal lovers can also use the Moochie Registry to celebrate their new family member. "June is wedding season and just as brides-to-be register for wedding presents, new pet parents have a pet registry of their very own. The Moochie Registry helps new dog and cat owners gather the essentials for their new pet while bringing friends and family together for a special pet occasion," explained Lewis.
Take Your Dog To Work Day is this Friday, June 22nd.
About Moochie & Co.

Moochie & Co. consistently looks for new pet products that are functional, well-made, creatively designed, and offer great value.In addition to moochieandco.com, Moochie & Co. pet accessory stores are located in Ohio and Michigan. The stores offer thousands of pet gifts and accessories from dog beds and cat toys to rhinestone dog collars and gourmet dog treats.
Moochie & Co. features items that are fashionable as well as functional such as collars with matching leashes, comfy beds, carriers, tasty homemade treats, and toys your pet will enjoy. Moochie & Co. also carries unique, upscale and high fashion items such as jackets, sweaters, t-shirts and boots. Moochie also donates 25 cents from the sale of their "Moochie brand" dog treats to non-profit animal rescue and support groups.
###
Bestsellers and Hot Products
---
---
The holiday season is a time for giving and picking out the perfect gift can often be a challenge.  Especially when it comes to choosing presents for our favorite furry friends who can't exactly tell us what they would like.  Here are some recommendations on great Christmas gifts for pets! 1.  Let your favorite dog […]