array(2) { [0]=> string(0) "" ["keywords"]=> string(24) "behavioral concerns,Box," }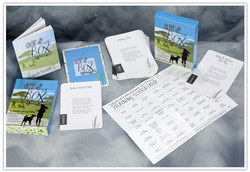 Ventura, CA (PRWEB) September 28, 2010
The Out of the Box Dog Training Game was developed by acclaimed dog trainer Joan Mayer as a practical and affordable training solution for reinforcing real-world manners in dogs, resolving behavioral concerns, and preventing behavioral issues before they start.
The positive dog training solution was designed to go beyond traditional dog obedience training and emphasizes the importance of understanding canine behavior so that dog owners can successfully reinforce the behaviors they want, while limiting and preventing inappropriate habits.
With 39% of U.S. households owning at least one dog, the common reality for many people today is that they just don't have the time, money, or energy to invest in dog training or coaching their dogs to develop and maintain good manners.
"This interactive dog training game is a highly effective solution because it employs established dog training techniques that reward and motivate both owner and dog," said Mayer, founder of The Inquisitive Canine in Ventura, CA. "I've created this pawsitive dog training solution as an easy, simple, and enjoyable way for dog lovers to raise a healthy and happy pet. By providing training exercises that are short, sweet and simple, you make learning fun while achieving your behavior goals at the same time!"
The Out of the Box Dog Training Game was recently awarded the PTPA (Parent Tested, Parent Approved™) Seal of Approval for innovative new products that families can trust. The game is also being distributed by First Choice Naturals, a premiere pet health company, as well as breeders as an ideal way to help new owners train puppies and dogs when they are adopted.
The Out of the Box Dog Training Game includes:

    56 activity cards that address real world manners such as loose leash walking, doorbell etiquette, techniques for building confidence and enhancing socialization, and activities that fulfill a dog's innate needs while helping them adapt to our human environment
    An 18-page Guide Booklet that includes everything from dog training technique instructions to tips on which rewards will best motivate your dog to learn
    Scorecard to help you and your dog play your way to canine good manners
"The game is designed for dogs of all ages and can be played just about anywhere and at anytime that works in your daily routine – making dog training less overwhelming and more enjoyable," said Mayer, who also authors the dog behavior advice column Dear Inquisitive Canine. "Since each dog training activity can be customized for specific needs and adapted to different learner levels to help advance your dog's skills, the game is different every time you play."
The Out of the Box Dog Training Game can be purchased online at:

http://www.inquisitivecanine.com/dog-training-game.php
The Out of the Box Dog Training Game is also available as an iTunes application:

http://itunes.apple.com/us/app/out-box-dog-training-game/id340664554?mt=8
The Inquisitive Canine is dedicated to empowering dog owners with a rewarding education that will help them further develop and enhance their everyday relationships with their dogs. The Inquisitive Canine specializes in dog training methods that focus on understanding canine behavior and teaching dogs through techniques that reward and motivate. For more information on private dog training, group classes, virtual dog training or the Out of the Box Dog Training Game, please visit http://www.Inquisitivecanine.com/ or call (805) 650-8500.
###
---
---
array(2) { [0]=> string(0) "" ["keywords"]=> string(14) "cat,
Christmas
," }
The holiday season is a time for giving and picking out the perfect gift can often be a challenge.  Especially when it comes to choosing presents for our favorite furry friends who can't exactly tell us what they would like.  Here are some recommendations on great Christmas gifts for pets! 1.  Let your favorite dog […]